Title Image: Author
I used to be Presidente (Chairman) of an Ecuadorian Gold Mining company, Rio Perdido Gold SA. The experience of my role introduced me to a great many facets of Gold as a commodity.
DISCLAIMER: This is not advice. It is my own personal point of view. Nobody should act upon this paper without consulting professional counsel. The author of this paper may not be held liable for any losses arising from any action taken as a result of reading this information.
For centuries, gold has been revered as a commodity owing to its scarcity. I should add that I am not a Geologist. I am a manager of businesses, a General Manager of businesses.
It is estimated that the total amount of gold ever mined equates to the contents of two Olympic sized swimming pools.
It is also quite well established that the best way to mine gold, believe it or not, is to recycle mobile telephones. I remember being encouraged to throw my old mobile into a bin in Carphone Warehouse as a gesture to recycling!
There are several major Gold Mining companies in the world: Barrick, Newmont, AngloGold, Goldcorp, Newcrest, Kinross and others. All these players have suffered at the costs of production.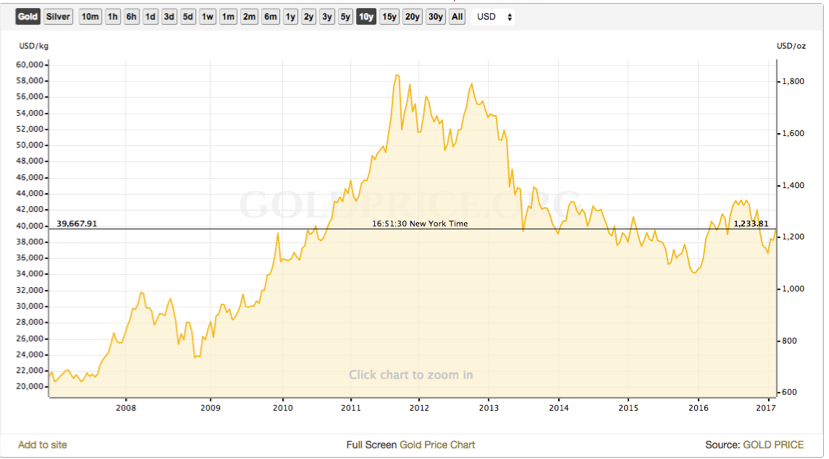 The 10 year Gold Price chart in US$/ounce Source: GoldPrice
According to a 2015 survey by Gold Fields Mineral Services Ltd., gold miners' average all-in costs, including interest and extraordinary costs, were close to $1,208 per ounce in 2014. This excluded the impact of impairments. The average gold price was $1,260 per ounce. Current price is around $1,235/ounce.
Here in Ecuador, Kinross, the Canadian TSX listed producer, spent $1.3Bn on everything from exploration to Environmental Reports to Camp installations for their mine "Fruta del Norte'. Unable to reach a satisfactory taxation structure, the company left, selling the mine to Lundin, another Canadian company for a reported $270 million. I am well versed in the story.
Gold mines are often found in countries which have a reputation for difficult relationships with the Government. I had to explain Capital Markets to Ministers here in Ecuador. Not much has changed.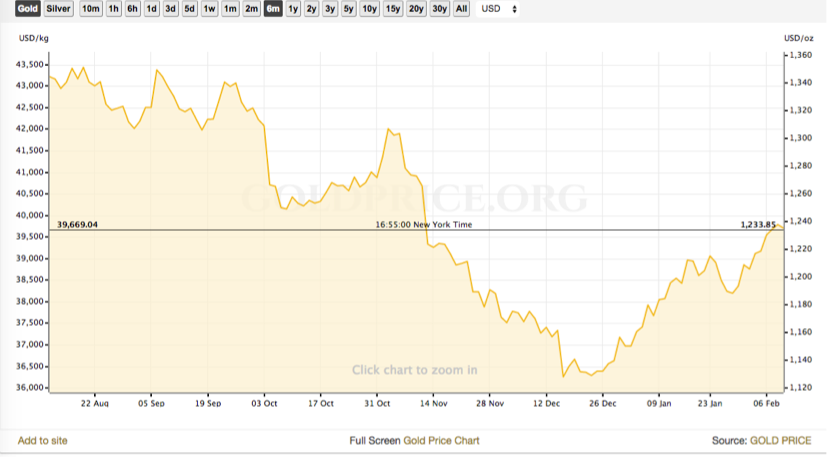 The 6 month Gold Price chart in US$/ounce Source: GoldPrice
One of the most important officers of a Public Company such as a Mining Company is 'Head of Risk'. If you find yourself in this position and you deem it safe for your shareholders' capital to be employed in a multimillion dollar investment in an unstable jurisdiction which has flimsy laws around Security of Tenure and it all goes wrong … it could be jail time for you!
This leads one to question the future production of gold. The top 10 gold producers in the world produce about 950 Tonnes/annum.
In recent years there has been a flight to the US dollar for security. The US dollar is feeling somewhat politically exposed, given Trump's desire for exports. The Euro is having an identity crisis with Le Pen suggesting a Frexit and return to the Franc, supported by Putin. The Chinese manipulate their currency as often as the tide turns … what now?
I am a strong believer that gold is a good harbour for your money.
All Rights Reserved. ©Edward Bryans 2017. No unauthorised reproduction of this post in whole or in part is permitted without the express written consent of the author