Title Image: ABC
The Headlines:
Over 500,000 people displaced in the last 4 months
Equating to over 4,000 per day
Over 60% of those displaced are children
Today 100,000 face imminent death through starvation
"Recent new arrivals [Refugees to UNHCR Camps] report suffering inside South Sudan with intense fighting, kidnappings, rape, fears of armed groups and threats to life, as well as acute food shortage," Reported William Spindler, a spokesperson for the UN High Commissioner for Refugees (UNHCR), to a regular media briefing in Geneva.
"More than 60 per cent of the refugees are children, many arriving with alarming levels of malnutrition – enduring devastating impact of the brutalities of the ongoing conflict," he added.
The South Sudan refugee crisis ranks third in the world, behind Afghanistan and Syria. In a crisis which has been going on for three years, there are already 3.5 million people who have been displaced. The realities of the situation are largely unseen by the world due to a drastic shortage of funding.
The desperately needed resources are the most mundane: drinking water, food, medical care and sanitation.
In 2016, the UNHCR set its Annual Budget requirements for the disaster at $649 million. It received just 33% of that funding requirement. This year's requirement is well over $700 million.
Much of the UNHCR's efforts are going into supporting the neighbouring countries to where the South Sudanese flee: Uganda, Ethiopia, Sudan, Kenya, Democratic Republic of the Congo, Central African Republic.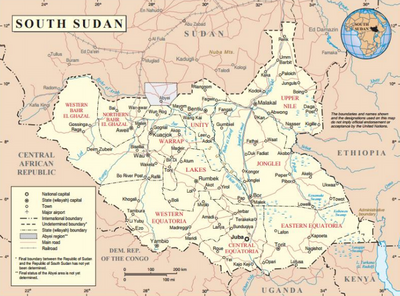 Map: ACAPS
The crisis kicked off in December 2013. President Salva Kiir and his former Vice-President Riek Machar had been running a political feud and it turned into vicious conflict between their respective loyal forces.
Upon gaining Independence in 2011, public expenditure per capita of South Sudan was eight or nine times higher than that in Ethiopia. It was five times that of Uganda. This was a middle-income country with a lot of money.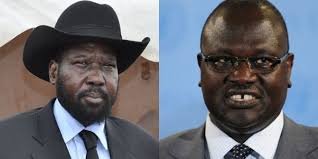 President Salva Kiir and Former Vice President Riek Machar Image: nehandaradio.com 
The vast majority of the country's revenue came from oil. A disagreement with Sudan (justifiable in many respects), saw the government cut off the oil and their resultant revenue. Noses and faces spring to mind.
The origins of the political fight between Salva Kiir and Riek Machar were not along ethnic lines but soon descended into that pattern. This was the point at which the UN had the opportunity to do something. It did not.
A Peace Agreement in August 2015 simply shifted the conflict zones to areas which had previously been relatively untouched.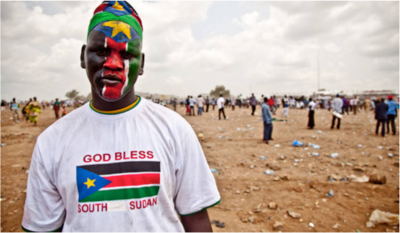 Image: Daily Maverick 
What does the future hold for the innocents?
Recently released is this blandest of bland statements issued by the United Nations Food and Agriculture Organization (FAO), the United Nations Children's Fund (UNICEF) and the World Food Programme (WFP)
"If sustained and adequate assistance is delivered urgently, the hunger situation can be improved in the coming months and further suffering mitigated."


Images: BBC 
If we provide food, there will be less hunger – Shirlock, I think you have cracked it!
Some of these Aid Organisations spend more time over creating their acronyms than delivering their aid. One of those involved is the IPC – Integrated Food Security Phase Classification stated that South Sudan's population are in need of urgent food, agriculture and nutrition assistance. Enough!


Rubkona Base: Image aparat.rasanetv.ir and Malakal Protection of Civilians Site, 22 February 2016 Blackened areas were burned following a government attack. Image: Sea Aerial
There comes a time for these Organisations to stop being clever with statistics and rhetoric and do what they are supposed to do and do it well! We fund them all, indirectly. They owe us a duty of care for the stewardship of their resources.
All Rights Reserved. ©Edward Bryans 2017. No unauthorised reproduction of this post in whole or in part is permitted without the express written consent of the author