Title Image: Rummy doing what Rummy did best. Image: bethq.com
The Race
The Grand National is the toughest test on a racehorse one can imagine. It comprises 4 miles 514 yards (almost 7kms) with horses jumping 30 fences over two laps of the Course at Aintree near Liverpool, England.


Becher's Brook and The Chair. Images: grandnational.org.uk
The course over which the race is run features much larger fences than those found on conventional National Hunt tracks. Many of these, particularly Becher's Brook, The Chair and the Canal Turn, have become famous in their own right and, combined with the distance of the event, create what has been called "the ultimate test of horse and rider".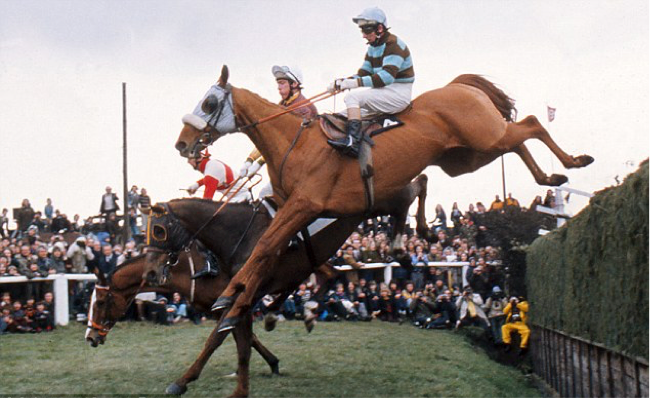 Grand National Winner,L'Escargot in full flight. Image: Colosport/Stewart Fraser
First run in 1839, The Grand National, is one of the leading features of the Sporting Calendar. It is watched by an estimated 500-600 million people in over 140 countries.
The Horse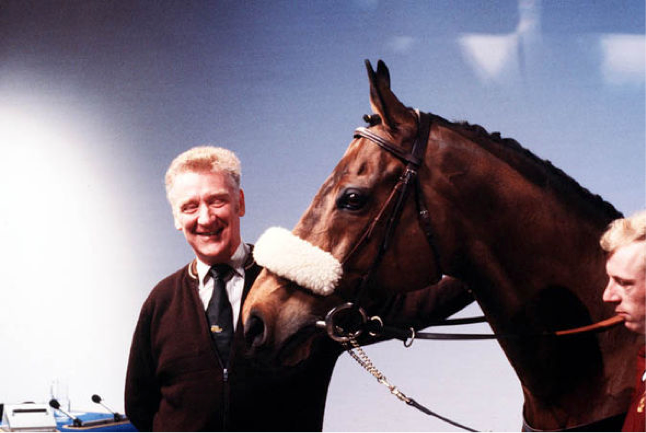 Red Rum with Trainer, Ginger McCain Image: BBC
Mared and Quorum were his dam and sire, the last three letters of each name were used to make his name. Red Rum was bred in Ireland as a one mile flat racer, dead-heating his first race and winning a further two but none of these outings were in great company.


Red Rum at Southport Beach. Images: Derek Holden and BBC
Eventually, Red Rum was bought by a National Hunt (Jump Racing) trainer, Ginger McCain for one of his clients, Noel Le Mare. McCain famously trained 'Rummy' on the beach at Southport near Aintree on account of his sore hooves which suffered from an incurable bone disease.
Red Rum and The Grand National
The reason why Red Rum is such a folk hero in the pantheon of British Sport is that he won 'The National' three times and came second twice.
Furthermore, over the 100 races in which he started, he did not fall once, an incredible feat and testament to his jumping skills. Rules are made to be broken but …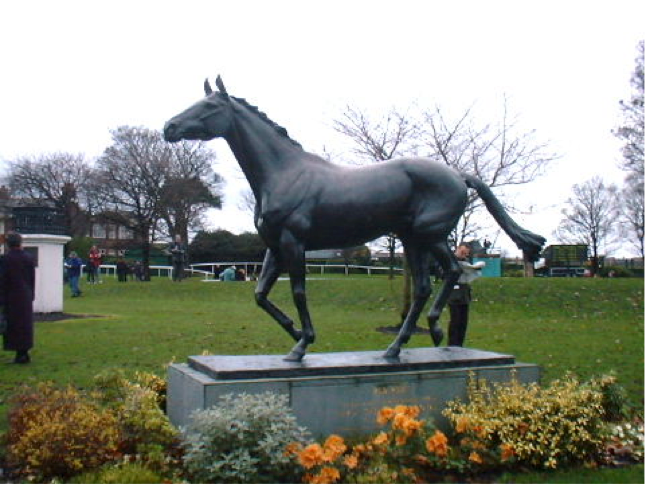 Red Rum's Sculpture at Aintree Racecourse. His Grave is at the Finish Post. Image: Qlocal.co.uk
In 1973, Red Rum defeated Crisp, an Australian horse carrying 19lbs. more due to the handicap. At the time it was a heart-breaking loss for Crisp, who had led virtually all the way and was still 15 lengths clear at the last fence.
Red Rum broke the course record.
Winning again in 1974, the horse became a national icon, multiple winners of the race are rare. The handicapper did for him in 1975 and 1976.
With the hopes of a nation on his back, everyone celebrated on that famous typical grey day in 1977.
To this day, he is still the most famous horse in the UK, ahead of Anna Sewell's 'Black Beauty.'
Red Rum winning The 1977 Grand National, convincingly.